Zesty Quinoa Salad
Hi Mom, welcome to our recipe website. Our recipe this time is Zesty Quinoa Salad, hopefully our recipe can inspire cuisine for your family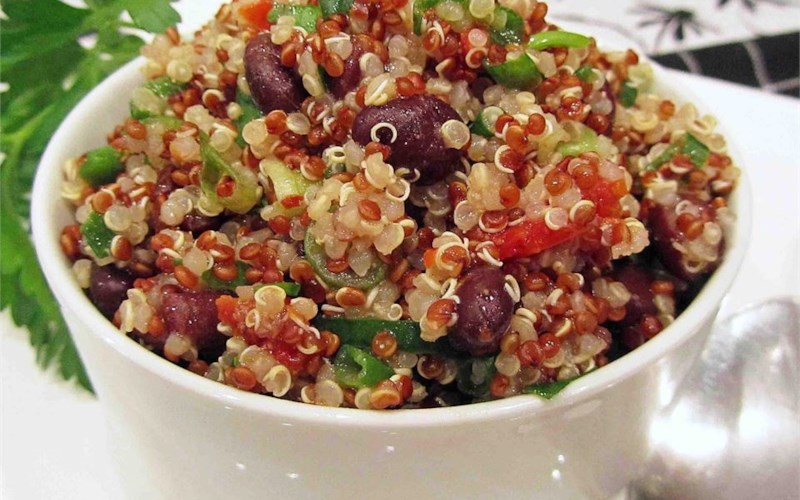 Preparation
20m
Cook Time
10m
Ready In
30m
Servings
6
Calories
270
Ingredients
1 cup quinoa
2 cups water
1/4 cup extra-virgin olive oil
2 limes, juiced
2 teaspoons ground cumin
1 teaspoon salt
1/2 teaspoon red pepper flakes, or more to taste
1 1/2 cups halved cherry tomatoes
1 (15 ounce) can black beans, drained and rinsed
5 green onions, finely chopped
1/4 cup chopped fresh cilantro
salt and ground black pepper to taste
Steps
1Bring quinoa and water to a boil in a saucepan. Reduce heat to medium-low, cover, and simmer until quinoa is tender and water has been absorbed, 10 to 15 minutes. Set aside to cool.
2Whisk olive oil, lime juice, cumin, 1 teaspoon salt, and red pepper flakes together in a bowl.
3Combine quinoa, tomatoes, black beans, and green onions together in a bowl. Pour dressing over quinoa mixture; toss to coat. Stir in cilantro; season with salt and black pepper. Serve immediately or chill in refrigerator.
Similar Recipes Zesty Quinoa Salad