Terri's Tourtiers (French-Canadian Santa Pies)
Hi Mom, welcome to our recipe website. Our recipe this time is Terri's Tourtiers (French-Canadian Santa Pies), hopefully our recipe can inspire cuisine for your family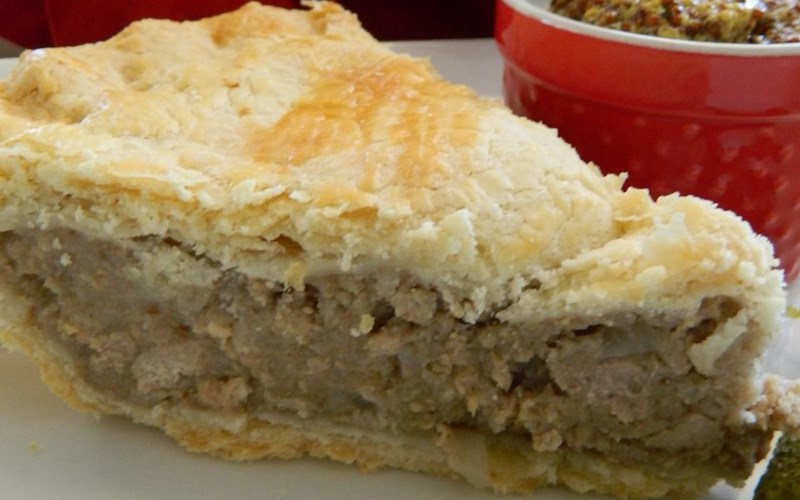 Preparation
1h
Cook Time
20m
Ready In
3h 20m
Servings
30
Calories
499
Ingredients
5 cups water
5 pounds lean ground pork
3 onions, chopped
2 tablespoons salt
2 1/2 cups ground dry bread crumbs, or more as needed
1 teaspoon ground allspice
5 pastries for double-crust pies
Steps
1Bring water to a boil in a large saucepan; crumble pork into the boiling water. Reduce heat and simmer until pork is no longer pink, 10 to 15 minutes. Drain water into a large bowl and transfer pork to a separate bowl; refrigerate pork. Refrigerate broth until fat separates from water, at least 1 hour.
2Preheat oven to 350 degrees F (175 degrees C).
3Place pork in a large skillet; add onions and salt. Cook and stir pork mixture over medium heat until onion is soft and translucent, 10 to 15 minutes.
4Skim and discard the fat from the broth. Pour the remaining broth over the pork-onion mixture; stir in bread crumbs and allspice until well mixed. Add more bread crumbs if mixture is runny. Remove skillet from heat.
5Press 5 pie crusts into five 9-inch pie dishes. Divide ground pork mixture among the 5 prepared pie crusts. Place 1 pie crust over each pie, crimping edges together to seal. Cut slits into the top crust of each pie for ventilation.
6Bake in the preheated oven until pies are golden brown, about 1 hour.
Similar Recipes Terri's Tourtiers (French-Canadian Santa Pies)