Orange and Milk-Braised Pork Carnitas
Hi Mom, welcome to our recipe website. Our recipe this time is Orange and Milk-Braised Pork Carnitas, hopefully our recipe can inspire cuisine for your family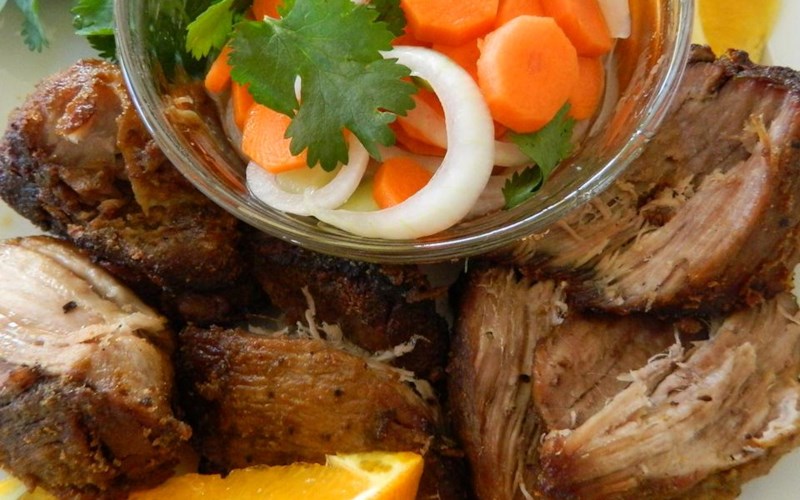 Preparation
10m
Cook Time
2h 30m
Ready In
2h 40m
Servings
8
Calories
325
Ingredients
3 1/2 pounds boneless pork shoulder, cut into large pieces
1 tablespoon freshly ground black pepper
1 tablespoon kosher salt, or more to taste
2 tablespoons vegetable oil
2 bay leaves
2 teaspoons ground cumin
1 teaspoon dried oregano
1/4 teaspoon cayenne pepper
1 orange, juiced and zested
2 cups whole milk
Steps
1Season pork with pepper and salt.
2Heat oil in large pot over high heat. Working in batches, cook pork in the hot oil until browned on all sides, about 5 minutes. Return all cooked pork and accumulated juice to pot.
3Season pork with bay leaves, cumin, dried oregano, and cayenne pepper. Stir in fresh orange juice, orange zest, and milk. Bring mixture to a boil over high heat; reduce heat to low. Cover and simmer, stirring occasionally, until meat is fork tender but not falling apart, about 2 hours.
4Preheat oven to 450 degrees F (230 degrees C).
5Remove pork from liquid. Skim some fat from the pot to grease a baking dish. Transfer the pieces of pork to the baking dish. Drizzle about 2 more tablespoons of the floating fat over the meat. Season with more salt, if needed.
6Bake in preheated oven until pork is browned, about 15 minutes. Stir pork.
7Turn on oven's broiler. Cook pork under broiler until crisp, 2 to 3 minutes.
Similar Recipes Orange and Milk-Braised Pork Carnitas