No Bake Deluxe Hamburger Cookies
Hi Mom, welcome to our recipe website. Our recipe this time is No Bake Deluxe Hamburger Cookies, hopefully our recipe can inspire cuisine for your family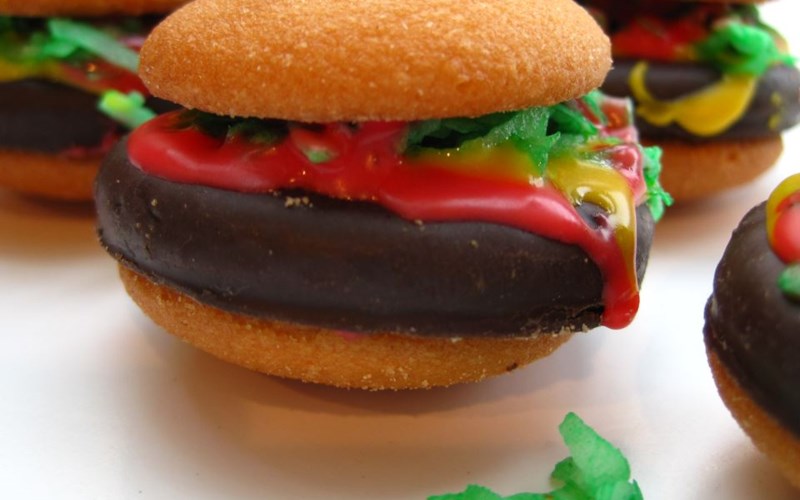 Preparation

Notice: Undefined index: preparation in /var/www/html/yummi/themes/endeus/recipe.php on line 25

Cook Time

Notice: Undefined index: cook in /var/www/html/yummi/themes/endeus/recipe.php on line 30

Ready In

Notice: Undefined index: ready_in in /var/www/html/yummi/themes/endeus/recipe.php on line 35

Servings
6
Calories
360
Ingredients
24 vanilla wafer cookies
12 small peppermint patties
4 drops green food coloring
12 medium green gumdrops, sliced
2 tablespoons sesame seeds
4 small rolls of apricot fruit leather
1/2 cup flaked coconut
Steps
1Place the coconut and the food coloring in a bowl with a lid. Shake till all coconut is covered. Set aside.
2Place 12 of the vanilla wafers flat side up on a cookie sheet. After unwrapping all of the peppermint patties, place them on top of the wafers.
3Unwrap the fruit roll-ups (optional) and cut into squares. Place on top of the all of the patties to look like cheese. Then place the sliced gumdrops on the top of that. Add the coconut.
4Place the other half of the wafers over the top of the coconut. With a small kitchen brush lightly paint a VERY small amount of water on the tops of the cookies. Finally shake or sprinkle a small amount of sesame seeds over the wafers.
Similar Recipes No Bake Deluxe Hamburger Cookies