Mice
Hi Mom, welcome to our recipe website. Our recipe this time is Mice, hopefully our recipe can inspire cuisine for your family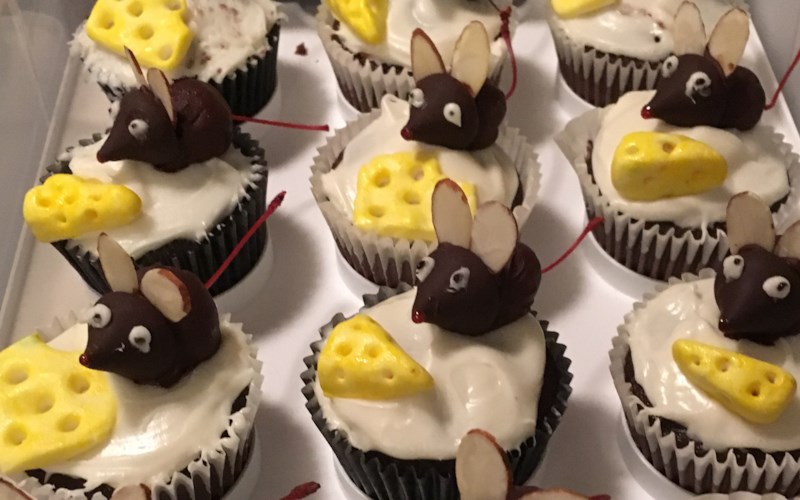 Preparation
45m
Cook Time

Notice: Undefined index: cook in /var/www/html/yummi/themes/endeus/recipe.php on line 30

Ready In
15m
Servings
20
Calories
96
Ingredients
8 ounces chocolate confectioners' coating
20 red maraschino cherries with stems
3 tablespoons blanched slivered almonds
20 milk chocolate candy kisses, unwrapped
40 small red decorating candies (dragees) (optional)
Steps
1Line a baking sheet with parchment paper.
2Chop the confectioners' coating into chunks, and place into a microwave-safe bowl. Heat the coating in the microwave oven on High for 30 seconds; then heat again 4 or 5 more times for 10 to 15 seconds each time until the coating is warm (not hot) and melted. Stir well until the chocolate coating is smooth and free of lumps. The coating should be about 95 degrees F (35 degrees C).
3Dry the cherries well with paper towels. Holding each cherry by the stem, dip it into the chocolate coating to just reach the bottom of the stem. Carefully lay the cherry on its side, so the stem sticks out the side. This will be the tail. Before the coating sets up, stick the flat side of an unwrapped chocolate kiss opposite the tail, to make a pointy-nosed face. Pick out two nicely shaped slivers of almond, and insert them between the chocolate kiss and the dipped cherry to make little ears. Use a toothpick to make two small dots of melted coating on the face for eyes; stick two little red candies to the coating dots. Repeat with the rest of the cherries. Allow the coating to set until firm and cool, about 30 minutes.