Hamburger Cookies
Hi Mom, welcome to our recipe website. Our recipe this time is Hamburger Cookies, hopefully our recipe can inspire cuisine for your family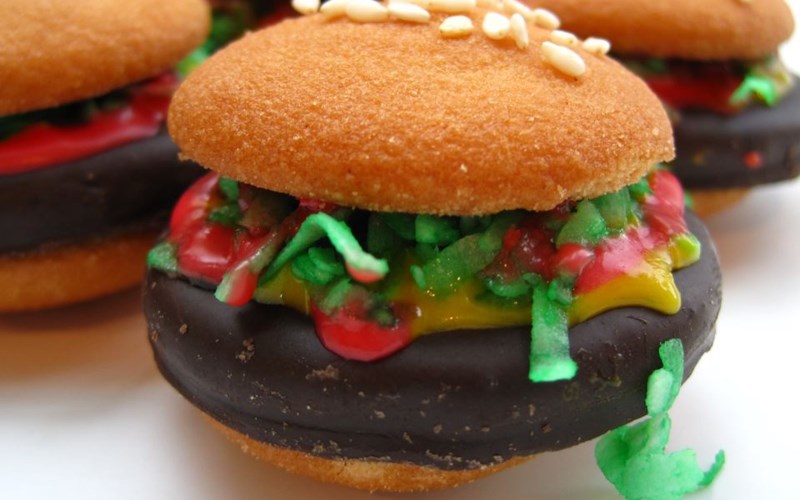 Preparation

Notice: Undefined index: preparation in /var/www/html/yummi/themes/endeus/recipe.php on line 25

Cook Time

Notice: Undefined index: cook in /var/www/html/yummi/themes/endeus/recipe.php on line 30

Ready In

Notice: Undefined index: ready_in in /var/www/html/yummi/themes/endeus/recipe.php on line 35

Servings
12
Calories
191
Ingredients
4 drops green food coloring
1/2 teaspoon water
1/4 cup flaked coconut
48 vanilla wafers
24 chocolate covered thin mints
1 tablespoon sesame seeds
Steps
1Preheat oven to 350 degrees F (180 degrees C).
2In a bowl, combine food coloring with a few drops of water. Add coconut and cover the container, shake until coconut is tinted. Set aside.
3Place 1/2 of the vanilla wafers, flat side up, in an ungreased cookie sheet. Top each wafer with a peppermint patty. Place in the oven about 1 minute or just until chocolate begins to soften.
4Remove cookies from oven and sprinkle each mint with 1/2 teaspoon coconut (for lettuce). Place another vanilla wafer on top and press gentle. With a clean paint brush, brush the top of each hamburger with just enough water to moisten so that the sesame seeds will stick when sprinkled on top of each cookie. NOTE: You can use canned chocolate frosting in place of peppermint patty, then eliminate the baking.
Similar Recipes Hamburger Cookies