Grilled Ginger-Peach Chicken Breast
Hi Mom, welcome to our recipe website. Our recipe this time is Grilled Ginger-Peach Chicken Breast, hopefully our recipe can inspire cuisine for your family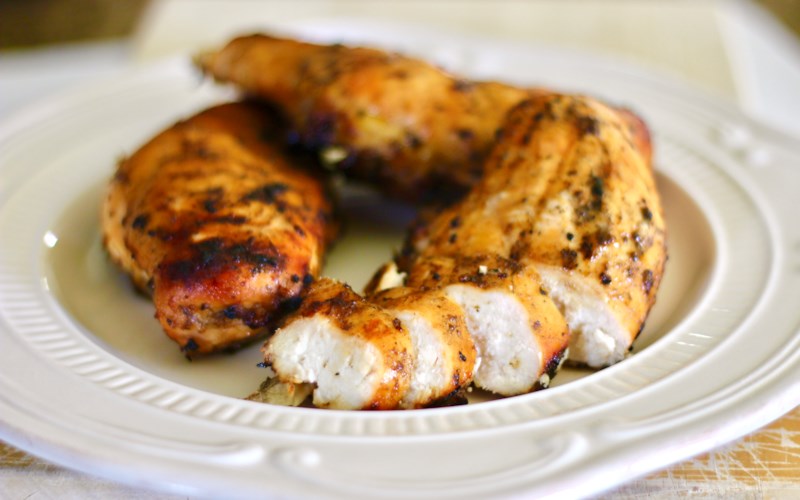 Preparation
05m
Cook Time
30m
Ready In
6h 35m
Servings
6
Calories
157
Ingredients
1/2 cup peach preserves
1 tablespoon white wine vinegar
1 tablespoon prepared horseradish
1 tablespoon finely grated ginger root
1/2 teaspoon salt
1/2 teaspoon coarsely ground black pepper
4 chicken breasts
Steps
1Combine peach preserves, vinegar, horseradish, ginger, salt, and pepper in microwave-safe bowl. Microwave on high until preserves are melted, stirring once halfway through the cooking time, 30 to 60 seconds. Remove and cool to room temperature.
2Rinse chicken breasts, pat dry, and place in a resealable plastic bag. Pour cooled marinade over chicken, seal, and refrigerate for 6 to 24 hours, turning chicken occasionally.
3Preheat an outdoor grill for medium-high heat and lightly oil the grate.
4Place chicken on preheated grill over indirect heat, cover, and grill until chicken is browned and cooked through, about 30 minutes.
Similar Recipes Grilled Ginger-Peach Chicken Breast