Fiery Fish Tacos with Crunchy Corn Salsa
Hi Mom, welcome to our recipe website. Our recipe this time is Fiery Fish Tacos with Crunchy Corn Salsa, hopefully our recipe can inspire cuisine for your family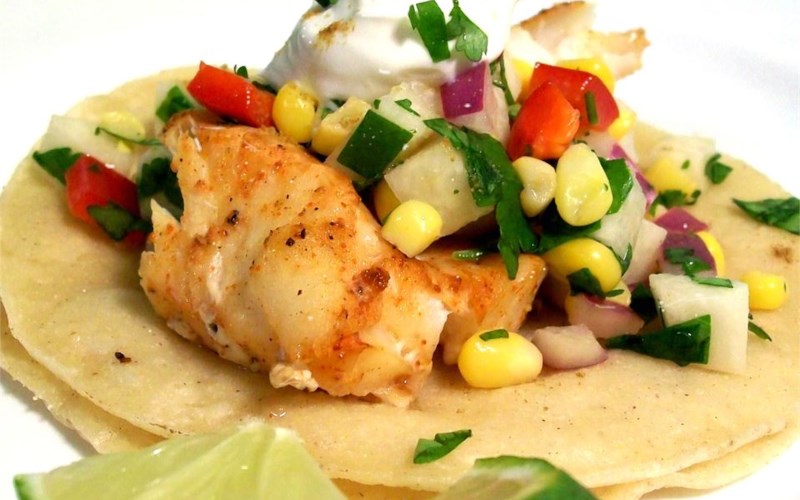 Preparation
30m
Cook Time
10m
Ready In
40m
Servings
6
Calories
351
Ingredients
2 cups cooked corn kernels
1/2 cup diced red onion
1 cup peeled, diced jicama
1/2 cup diced red bell pepper
1 cup fresh cilantro leaves, chopped
1 lime, juiced and zested
2 tablespoons cayenne pepper, or to taste
1 tablespoon ground black pepper
2 tablespoons salt, or to taste
6 (4 ounce) fillets tilapia
2 tablespoons olive oil
12 corn tortillas, warmed
2 tablespoons sour cream, or to taste
Steps
1Preheat grill for high heat.
2In a medium bowl, mix together corn, red onion, jicama, red bell pepper, and cilantro. Stir in lime juice and zest.
3In a small bowl, combine cayenne pepper, ground black pepper, and salt.
4Brush each fillet with olive oil, and sprinkle with spices to taste.
5Arrange fillets on grill grate, and cook for 3 minutes per side. For each fiery fish taco, top two corn tortillas with fish, sour cream, and corn salsa.
Similar Recipes Fiery Fish Tacos with Crunchy Corn Salsa