Easy Fish Tacos with Mango-Pineapple Slaw
Hi Mom, welcome to our recipe website. Our recipe this time is Easy Fish Tacos with Mango-Pineapple Slaw, hopefully our recipe can inspire cuisine for your family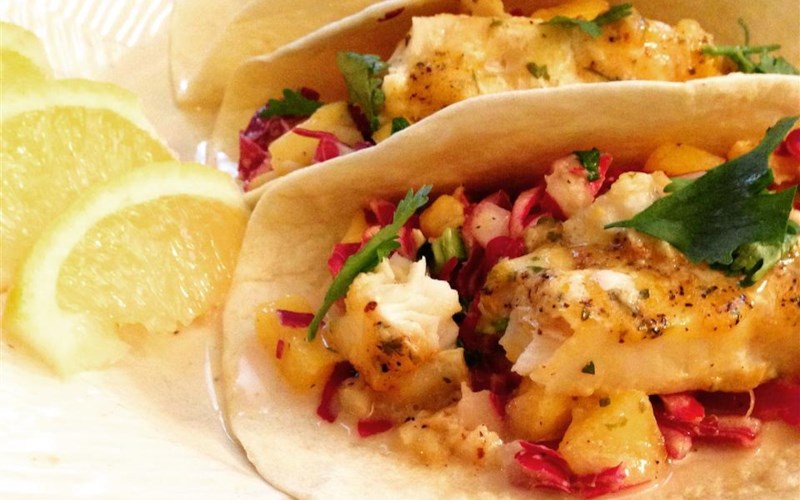 Preparation
30m
Cook Time
20m
Ready In
50m
Servings
8
Calories
278
Ingredients
1 pound cod fillets
1 tablespoon lemon juice
salt and ground black pepper to taste
1/2 cup red wine vinegar
1/4 cup reduced-fat mayonnaise
1 tablespoon white sugar
1 tablespoon salt
1 tablespoon ground black pepper
1 teaspoon garlic powder
3 cups shredded cabbage
1/2 cup chopped fresh mango
1/2 cup chopped fresh pineapple
1/2 cup chopped red onion
1/4 cup chopped fresh cilantro
1 fresh jalapeno pepper, chopped
8 (8 inch) flour tortillas
Steps
1Preheat the oven to 375 degrees F (190 degrees C).
2Place cod fillets on a large sheet of aluminum foil; pour lemon juice over fish and season with salt and black pepper to taste. Fold the foil around the fish and seal to create a pouch; place pouch in a baking dish.
3Bake in the preheated oven until the fish flakes easily with a fork, about 20 minutes.
4Meanwhile, whisk vinegar, mayonnaise, sugar, 1 tablespoon salt, 1 tablespoon black pepper, and garlic powder in a bowl until smooth. Combine cabbage, mango, pineapple, red onion, cilantro, and jalapeno in large bowl. Pour dressing over vegetables and fruit; toss to combine. Cover and refrigerate slaw until ready to serve.
5Divide fish evenly among flour tortillas. Spoon slaw over fish to serve.
Similar Recipes Easy Fish Tacos with Mango-Pineapple Slaw