Crispiest Apple Crisp
Hi Mom, welcome to our recipe website. Our recipe this time is Crispiest Apple Crisp, hopefully our recipe can inspire cuisine for your family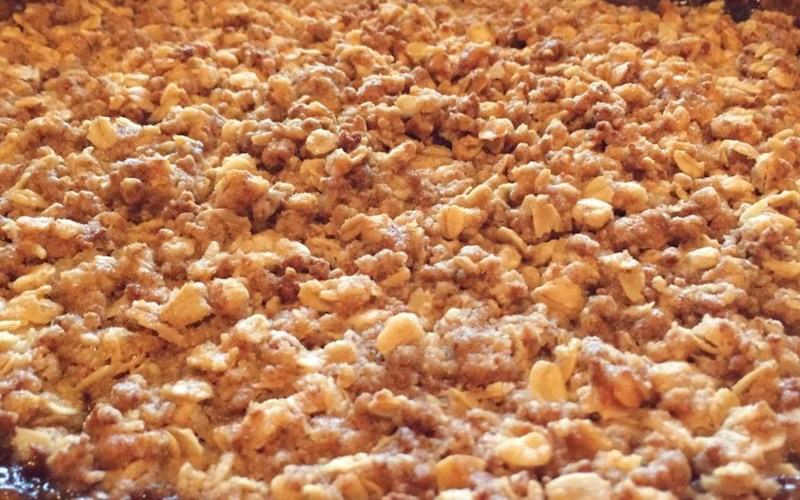 Preparation
15m
Cook Time
22m
Ready In
47m
Servings
8
Calories
364
Ingredients
5 apples - peeled, cored, quartered, and cut into 1/4-inch slices
1/2 lemon, juiced
1/2 cup all-purpose flour
1/2 cup rolled oats
1/2 cup wheat and barley nugget cereal (such as Grape-Nuts®)
1/2 cup melted butter
1/4 cup white sugar
1/4 cup brown sugar
2 tablespoons butter
1/3 cup brown sugar
1/3 cup white sugar
1/4 teaspoon cinnamon
1 tablespoon water
Steps
1Preheat the oven to 375 degrees F (190 degrees C).
2Toss sliced apples with lemon juice to prevent browning.
3Mix flour, rolled oats, wheat and barley nugget cereal, melted butter, 1/4 cup white sugar, and 1/4 cup brown sugar together in a large bowl.
4Melt 2 tablespoons butter in a large skillet over medium heat. Stir 1/3 cup brown sugar, 1/3 cup white sugar, and cinnamon into melted butter until sugar begins to dissolve, 3 to 4 minutes. Add apples and water; continue cooking and stirring until apples soften and are coated with sauce, 4 to 5 minutes.
5Pour apples and sugar mixture into a 2 quart baking dish. Sprinkle topping evenly over the apple filling.
6Bake in the preheated oven until the top is browned and the filling is bubbling up around the edges, 25 to 30 minutes. Cool for 10 to 15 minutes.
Similar Recipes Crispiest Apple Crisp