Baja-Style Fish Tacos
Hi Mom, welcome to our recipe website. Our recipe this time is Baja-Style Fish Tacos, hopefully our recipe can inspire cuisine for your family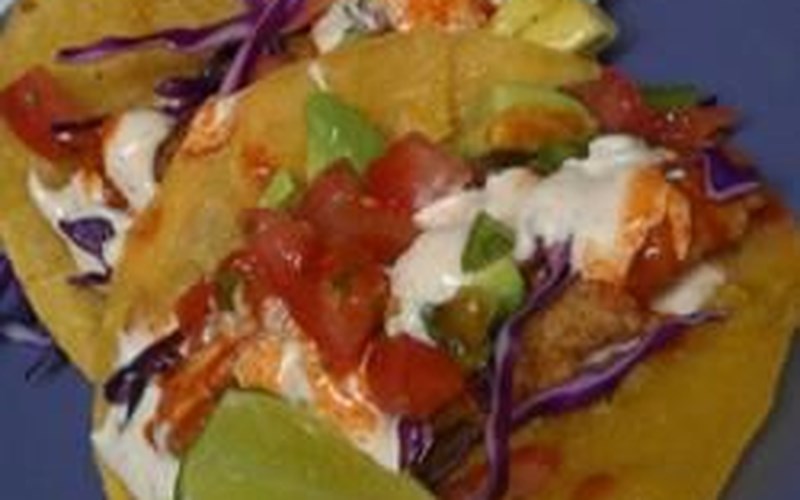 Preparation
45m
Cook Time
20m
Ready In
2h 05m
Servings
9
Calories
489
Ingredients
1/2 cup tequila
1/2 cup fresh lime juice
1/2 cup water
2 tablespoons kosher salt
2 tablespoons turbinado sugar
1 tablespoon chili powder
2 pounds cod fillet, cut into 3- by 1-inch strips
1 cup canned black beans, rinsed and drained
1 jalapeno pepper, seeded and minced (optional)
1/2 cup mayonnaise
1/2 cup sour cream
1 tablespoon chili powder
1 teaspoon cider vinegar
1/2 teaspoon kosher salt
1 teaspoon sugar
1 (12 ounce) package coleslaw mix
1 tablespoon chopped green onions
1 cup all-purpose flour
1 tablespoon chili powder
1 tablespoon baking soda
2 teaspoons kosher salt
1 cup oil for deep frying
9 corn or flour tortilla
Steps
1Make a marinade by whisking together the tequila, lime juice, water, 2 tablespoons salt, turbinado sugar, and 1 tablespoon chili powder in a large bowl. Set aside 1/4 cup of the marinade. Add the cod to the remaining marinade; cover and set aside.
2Stir together the reserved 1/4 cup marinade, black beans, and jalapeno; set aside.
3Mix together the mayonnaise, sour cream, 1 tablespoon chili powder, cider vinegar, 1/2 teaspoon salt, sugar, and green onions in a large bowl. Add the coleslaw mix and green onion and mix until coated; set aside.
4Mix together the flour, 1 tablespoon chili powder, baking soda, and 2 teaspoons salt in a shallow dish. Remove pieces of cod from the marinade, shake off the marinade, and coat in the flour mixture.
5Heat the oil in a heavy skillet to 375 degrees F (190 degrees C). Gently lie the coated fish in the skillet without crowding the pieces. Cook in the hot oil, turning once, until browned on all sides, 5 to 7 minutes.
6While frying the cod, heat the black bean mixture in a saucepan over medium heat. Heat the reserved marinade in a separate small saucepan over medium-low heat.
7Assemble tacos by placing fish in the center of tortilla; top with coleslaw, black beans, and any other desired toppings. Drizzle some of the heated marinade over the fillings and fold the tortilla to close.
Similar Recipes Baja-Style Fish Tacos