Baja Style Fish Tacos
Hi Mom, welcome to our recipe website. Our recipe this time is Baja Style Fish Tacos, hopefully our recipe can inspire cuisine for your family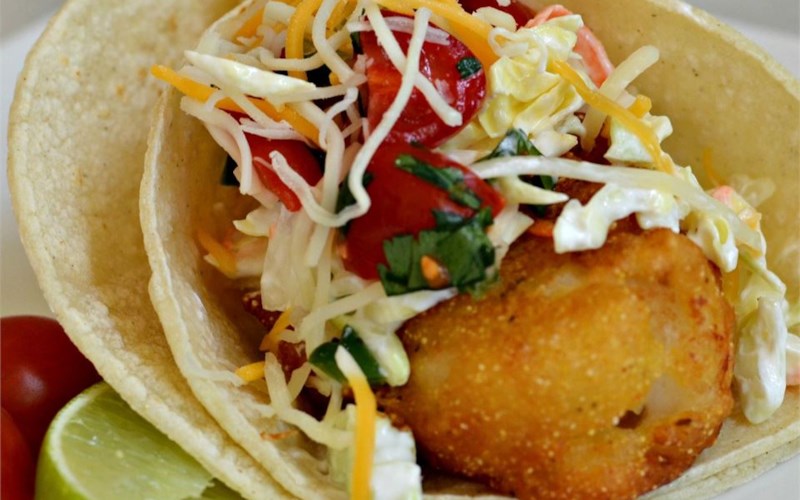 Preparation
40m
Cook Time
20m
Ready In
1h
Servings
12
Calories
423
Ingredients
6 tomatoes, diced
1 small onion, diced
1/2 cup chopped fresh cilantro
2 tablespoons canned diced jalapeno peppers, or more to taste (juice reserved)
1/2 teaspoon garlic salt
1/2 lime, juiced
3 cups coleslaw mix
3 tablespoons ranch dressing
2 cups vegetable oil for frying
1 (9 ounce) box batter mix (such as Shore Lunch®)
1 (12 fluid ounce) can or bottle Mexican beer
24 corn tortillas
1 pound cod fillets, cut into 2-inch chunks
2 cups shredded Mexican cheese blend
2 limes, sliced into wedges
1 dash chile-garlic sauce (such as Sriracha®) (optional)
Steps
1Mix tomatoes, onion, cilantro, jalapeno peppers, 1 tablespoon juice from jalapeno peppers, and garlic salt in a bowl; squeeze 1/2 lime over salsa fresca. Cover bowl with plastic wrap and refrigerate while preparing fish.
2Toss coleslaw mix with ranch dressing in a bowl; set aside for flavors to blend.
3Heat oil in a deep-fryer or large saucepan to 350 degrees F (175 degrees C).
4Stir batter mix and beer together in a bowl. Wrap corn tortillas in wet paper towels and set aside.
5Dip cod in the batter mix; fry coated cod in batches in the hot oil until cod is cooked through and coating is brown, 4 to 5 minutes. Remove cod with a slotted spoon and drain on a paper towel-lined plate.
6Microwave corn tortillas on high until warmed, about 1 minute.
7Stack two tortillas on a plate; top with fish, a sprinkle of Mexican cheese, coleslaw mixture, salsa fresca, and a squeeze from lime wedge. Drizzle with chile-garlic sauce. Repeat with remaining ingredients.
Similar Recipes Baja Style Fish Tacos