Aaron's Famous Vegetarian Nachos
Hi Mom, welcome to our recipe website. Our recipe this time is Aaron's Famous Vegetarian Nachos, hopefully our recipe can inspire cuisine for your family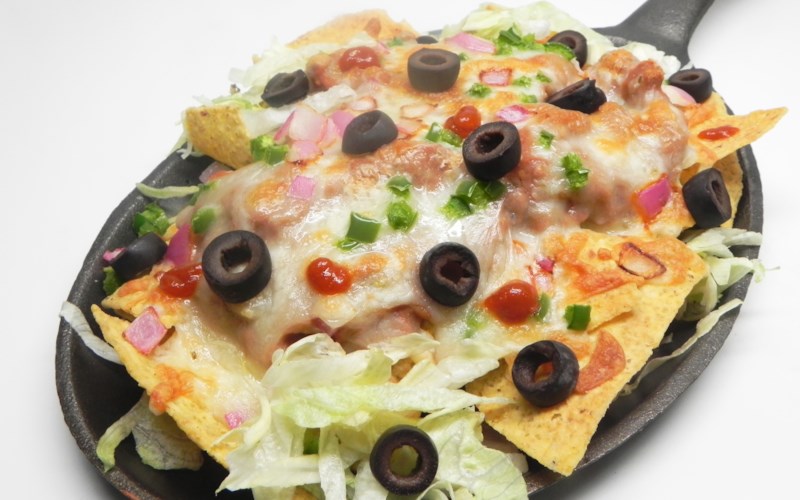 Preparation
15m
Cook Time
08m
Ready In
23m
Servings
4
Calories
882
Ingredients
2 (15 ounce) cans fat-free refried beans
1 (7.75 ounce) can jalapeno salsa (such as El Pato®)
1 (12 ounce) bag tortilla chips
1 (8 ounce) package shredded pepper Jack cheese
1 green bell pepper, chopped
1 onion, chopped
1 (8 ounce) package shredded lettuce
1 (4 ounce) can sliced black olives
Steps
1Set oven rack about 6 inches from the heat source and preheat the oven's broiler. Line a rimmed baking sheet with aluminum foil.
2Combine refried beans and salsa in a saucepan over medium heat; cook and stir until blended and heated through, about 5 minutes.
3Arrange tortilla chips on the baking sheet. Spoon refried bean mixture over chips. Sprinkle pepper Jack cheese, green bell pepper, and onion on top.
4Cook under the preheated broiler until cheese is melted, 3 to 5 minutes. Garnish with lettuce and olives.
Similar Recipes Aaron's Famous Vegetarian Nachos